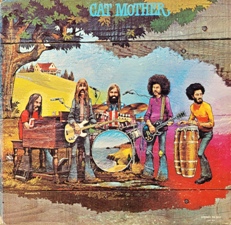 Cat Mother
Cat Mother
Released 1972
Polydor Records
by Jim Esposito

Music, recording albums, is a mercurial and capricious enterprise. Sometimes the stars align. No other explanation for Cat Mother. It's great. And that comes totally out of left field. These are guys you probably never heard of, who hadn't done much before, never did anything afterward.
The band released two LPs prior to this, and they were (I'm being nice here) mediocre. Cat Mother & The All Night Newsboys first appeared in 1969 with a Top 40 hit called "Good Old Rock 'n' Roll" that peaked at #21 on the U.S. Charts. A medley of 50s and 60s rock 'n roll tunes by Chucky Berry, Little Richard, the Big Bopper and Jerry Lee Lewis, it came off their first album The Street Giveth and the Street Taketh Away, produced by (no lie) Jimi Hendrix, with whom they had management ties. After some personnel moves they released Albion Doo-Wah in 1970.
"Good Old Rock 'n' Roll" is listenable for what it is, and there were a couple okay instrumentals on these records, but not much else worth sitting through.
Which is why their third album was such an unexpected delight. The band made more personnel changes. Founding members Bob Smith (keyboards and vocals), Roy Michaels (bass and vocals) and drummer Michael Equine brought in Steve Davidson for congas and percussion, Lead Guitarist Charlie Prichard. They dropped the All Night Newsboys, released this album in 1972 as the eponymous Cat Mother.
Recorded at Electric Lady Studios in September, 1971, it is obviously the presence of Charlie Prichard which transformed these sessions into something special. His guitar work through this record is astonishing, and the songwriting of Bob Smith and Roy Michaels took a real step forward.
The first song I heard off this LP was "Love Until Your Heart Breaks." Extremely stoned, I was driving through Central Florida in the middle of the night when it came on the radio. It was staggering, mesmerizing. A swelling Hammond B-3 organ intro backed by subtle, steady congas. The drums and bass come in, settling into a simmering, brooding beat. Then the lead guitar comes slicing through, hot and searing, an overdriven Les Paul. A smoldering eight and a half minute song, after a couple verses the guitar, organ, drummer and percussionist all get extended solos.
It was one of those songs you sat through, amazed, hoping the DJ would tell you who the hell it was when it was over. Which (fortunately) he did. Cat Mother. Who the hell was Cat Mother? I'd never heard of them before. Still, I ran right out and bought the record.
Cat Mother is not a sweeping Ben-Hur type masterpiece. It's more like My Cousin Vinny, a delightfully entertaining little record you can enjoy over and over again.
The opening track is "Greenwood Shuffle," a bouncy little good-time tune which is pleasant enough to bop along to until the guitar solo. Bright and ringing call and response, reminiscent of Billy Butler's seminal solo in Bill Doggett's "Honky Tonk," you take notice. Some really good work. The second track, "She Came From A Different World," is another smoldering rock number with the same feel as "Love Until Your Heart Breaks," the Hammond B-3 backdrop, the searing lead guitar fills which segue into a hot little solo between verses.
The next three cuts on the record are short tasty acoustic tunes: "Ode to Oregon," "Three And Me" and "The Dribbleworks Blues." The first two are sweet, thoughtful ballads. I don't know where this kind of songwriting was on their first two albums, but founding members Roy Michaels and Bob Smith come up with a couple of jewels here. "Dribbleworks Blues" is an acoustic slide instrumental by Charlie Prichard, two minutes long and quite enjoyable.
Side One of the LP concludes with "Trials and Tribulations," an electric rock Gospel tune.
Line notes suggest Side Two should be listened to at high volume, and it's all rock. Opens with a pure rock 'n roller, "Letter to The President." Sounds like the President of the college the songwriter dropped out of. Chuck Berry chords, wise-ass lyrics, great Les Paul guitar, this track is pure American rock 'n roll. Track Two is "Heebie Jeebies," an instrumental with a spooky main riff. Songwriting credits list the whole band, but this is really Charlie Prichard's tune to shine. The album wraps up with the aforementioned "Love Until Your Heart Breaks."
Cat Mother is not long, only about 17 minutes per side. But it's a really good record. This being the first album I'd heard of the band's, I naturally bought their first two, was seriously disappointed. Thick As A Brick type disappointment. They put out a fourth album, without Charlie Prichard. I did not like that, either.
Academically, you can point to Cat Mother as a perfect example of the mercurial nature of music, the music business. Especially from that era, when the quality of the album might well depend on how good were the drugs. Sometimes the clouds part, a beam of light shines down upon you from the heavens above. But whether these guys retired millionaires or playing bars - who cares? What is that to us? The important thing here is for once in their life they managed to put out a really good record. So enjoy it.
This Record Out of Print
For A Long, Long Time
You may be able to dowload digitally
in which case you might appreciate the liner notes
Click on images below to get much larger images