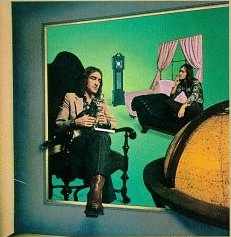 Dave Mason
It's Like You Never Left
Released 1973
Columbia Records
by Jim Esposito

I hear guys like John Mayer and Ed Sheeran, to me they sound like Fourth Generation Dave Mason. A forgotten artist, English guitarist, singer-songwriter Dave Mason was a founding member of Traffic, played lead guitar on their early records. He wrote "Feelin' Alright?" on their second album, the eponymous Traffic, came out in 1968. Released as a single it didn't fare well, but Joe Cocker covered the song for his debut With a Little Help from My Friends, and his version hit the charts. "Feelin' Alright?" was subsequently recorded by a number of artists, among them: Three Dog Night, Gladys Knight, the Jackson 5, Diana Ross, Isaac Hayes, Grand Funk Railroad, Little Milton and Craig Chaquico.
Mason was in and out of Traffic through the late Sixties into the early 70s. There's a famous quote by Sam Goldwyn: "I was always an independent, even when I had partners." Other members of Traffic liked to collaborate, but Mason wrote his own songs, his own arrangements, made Steve Winwood and Jim Capaldi feel like his backing band. Still, Mason had chops. Listen to his lead guitar through Traffic's Welcome to the Canteen, a decent live record released in 1971.
An interesting footnote - friends with Jimi Hendrix, it was Dave Mason who played a test-pressing of Bob Dylan's John Wesley Harding for Jimi, which is the first time Hendrix heard "All Along The Watchtower." When Jimi recorded his rendition in London's Olympic Studio, Mason played 12-string on the track.
Dave Mason's first solo album, Alone Together, was released in 1970. An excellent record, it featured a number of great tracks. The song most people heard was the single, "Only You Know and I Know," which charted, but there isn't a bad tune on the album. Some are bright, upbeat British rock like "Waitin' On You." Others are moody and heartfelt, like "Sad and Deep As You" and "World in Changes." The production quality is top-notch. Mason overlays electric guitar over an acoustic backdrop. His lead guitar work is excellent, especially through the two extended masterpieces off this album: "Shouldn't Have Took More Than You Gave" and "Look at Your, Look at Me."
The following year, Mason released an album recorded in Los Angeles with Mama Cass Elliott. In 1972 he planned to put out his second solo effort entitled Headkeeper, but when his label refused to re-negotiate his deal Mason stole the Masters he'd recorded, so Blue Thumb Records released an album of his demos.
In 1973 Columbia Records released It's Like You Never Left. This is Dave Mason's master work. Not a bad note on this record, it's one of the few "perfect" albums in Rock History. Every song is good. Production quality is excellent. Mason is joined by George Harrison on slide guitar in "If You've Got Love," by Stevie Wonder on harmonica in "The Lonely One."
What makes It's Like You Never Left, though, is Mason's lead guitar through standout tracks like the album's opener "Baby… Please" (a great, GREAT song), his "Director's Cut" of "Headkeeper," and the record's title track. Another brilliant cut is the instrumental jam track "Side Tracked."
Dave Mason subsequently released a number of albums. Three went Gold (1974's Dave Mason, 1975's Split Coconut, and 1978's Mariposa de Oro) and Let It Flow, released in 1977, went Platinum. These are all quite listenable, with some good tunes, but ultimately rather commercial and lightweight.
What was really cool, in 2020 Dave Mason released Alone Together, Again, where he re-recorded his entire album Alone Together to commemorate the original's 50th Anniversary. Gotta love the concept, and these are interesting renditions of some very good songs, so it's fun enough to dig out from time to time.
Still, far as I am concerned, he never came close to It's Like You Never Left again.
Listen to, Buy CD, Buy Vinyl
Dave Mason, It's Like You Never Left
Alone Together, Dave Mason